Stanley Kennedy North's Norwich glass #1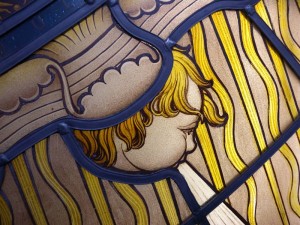 Stanley Kennedy North did three beautiful large stained glass works for the  Colman mustard family of Norfolk to commemorate their donations to Norwich's pre-NHS hospitals. The works are now in the care of the Norfolk and Norwich University Hospital's Arts Project, managed by Emma Jarvis.
This is #1, The Wheel of Life, and is on display at NNUH. See here for #2, The Tree of Life and see here for #3 for SKN's Colman family heraldic device. (For other works by Stanley, and other SKN/Colman connections, try searching this site for "SKN".)
Here is a gallery of the Wheel of Life:

The Wheel of Life is about six feet high by four or five feet wide. Typically of SKN's work, it is a joyous mix of Arts and Crafts and Modernism. It celebrates the human, including agriculture; flora and fauna; and has an astrological theme as well.