Hunston Convent and Chichester Free School
Posted by RDN under Mind & body on 22 April 2017
Chichester Free School is taking over Hunston Convent, a 19th Century Carmelite monastery to the south of the city, on the threshold of the Manhood Peninsula. It's a brilliant and exciting adventure, since the school is a mint-fresh sort of institution and the convent building is a Victorian classic, and its community had roots which go centuries deep, and all over the world. The convent's fabric is being reborn in spectacular fashion – and I hope something of its spirit, too.
Background
I have been interested in the (until recently) rather hidden Hunston Convent for years. From a distance, I knew of it as an 1870s working convent (until the mid-1990s); of its several years as agricultural housing;  then of its abandonment (and a 2009 fire in its 1930s chapel) and near-dereliction until last year.
Then came news of its planned reuse as a home for the expanding Chichester Free School. In early summer 2016, Rob Matthews, a CFS governor, gave me and Steve Tattersall, a distinguished local photographer, every encouragement and the privilege of access to make what we could of the building's conservation and conversion. Rob and Steve both seemed as moved as I was by the place, and the traditions it represented.
Because I've had (to my own surprise, on several levels) a 30-some year interest in monasticism, and wrote a book about Christian (male) monks in the mid-1980s, I found I wanted to undertake a fairly serious research project on Hunston Convent and its female Carmelite community.
RDN's research
The main result is a PDF document which summarises the history of the Hunston Carmelite Convent, its community and the Order of which it was part. In particular, I  aim to draw out what such a building and background might mean to a school. Here it is:
RDN on Hunston Convent (25 April 2017)
Steve Tattersall's photographic record
A sample of Steve's photographs is available here:
Stephen Tattersall photography
Two Hunston Carmelites on monastic life
In July 2016 Sister Mary Clare and Sister Mary Helen spoke to me from their convent in Terre Haute, USA, about their period in the Hunston Carmelite convent but also more widely about their monastic vocations. It is fascinating to hear about what drew two young women of the Beatles and Mary Quant generation to the life of traditional prayerful seclusion, and nhow it holds them still.
MC & MH transcript July 2016 PDF
SS Fawn and the nuns' Channel crossing
I did some work on the little 1870 steam ship which brought the exiled community of Carmelite nuns from Cherbourg to they new Sussex home in 1870. It is here:
"SS Fawn and the nuns"
1872 newspaper story on Hunston Convent
The West Sussex Gazette, 29 February 1872, wrote a piece about the new Hunston Convent, just before it was fully occupied by the Carmelite Community. Here is a transcript:
WSG Hunston Convent, 1872
The nuns' story by one of their own
A member of the Hunston Carmelites recently wrote the history of their community, until the first few years of the Hunston time. Here it is:
"I Carried You", Chichester Carmel, September 2008
Hunston Convent plan, mid-1970s
Geoff Breeze, whose work on Hunston Convent is invaluable, gave me a photocopy of a plan of the Hunston Convent as it was in the mid-1970s, when the attic floor was converted into rooms to accommodate sisters from a Cambridgeshire Carmel which closed. The ground and first floors are pretty much as they had been for 100 years. My annotations are clumsy, I'm afraid. Here it is:
Hunston Convent 70s plan, annotated by RDN
Mother Superior Mary Baptist (1805-86)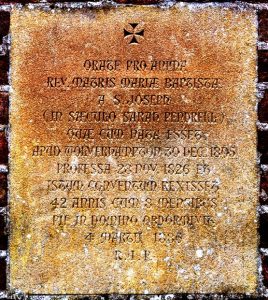 When years of undergrowth had been cleared away from the east wall of the convent, we found this striking memorial to the Hunston Carmelite community's first Mother Superior. We hope to find out more about her. Here is a transcript of the latin inscription, and my amateur translation:
Mary Baptist memorial stone text (Word doc)
RDN on Thérèse of Lisieux
I did some work on one of the great Carmelite saints: my secular but not merely sceptical account is here:
RDN on Thérèse of Lisieux.