1940: Poetic fighter pilots
I am working on portraits of various modern warriors, starting with memoirs by people who fought in WW1 or WW2, or – importantly – both. Two such strike me as breath-taking. They are accounts of the young pilots of the beginning of WW2.
The first, below, is from the famous book, Fighter Pilot, and records his leaving West Sussex for Le Havre, aged 26, and taking farewell of familiar scenes and his father.  The second, below it, hardly known now, records the impression left by such young men on Major-General Edward Spears,  aged 54 at this time, and a deeply romantic hero of WW1 who went on to be a very senior figure in WW2. Both are – I think – very poetic.
Fighter Pilot: A personal record of the Battle of France (Batsford, 1941)
Paul Richey, DFC
THE first week of war at Tangmere [September 1939] was too tense to be pleasant. We were waiting to go overseas with the Field Force, but there was no news day after day, and our time was spent between standing-by our aircraft and going up at each alarm. We were expecting to be bombed at any moment, but no bombers came, and soon the tension gave way to a feeling of unreality. It was difficult to realize that we were at war at all, and that men were dying in thousands on the Polish frontiers, while all was so peaceful here. The sun shone just the same, the windmill on the hill looked just the same, the fields and woods and country lanes were just the same. But in the background of our minds was a feeling of uneasiness, of sadness almost, that resolved itself into one thought when we examined it : we were at war.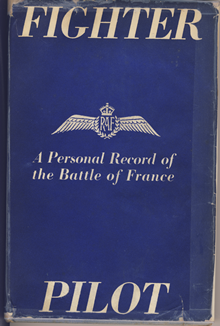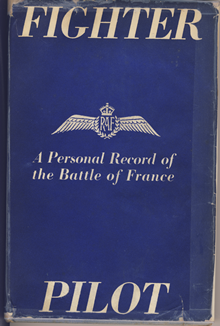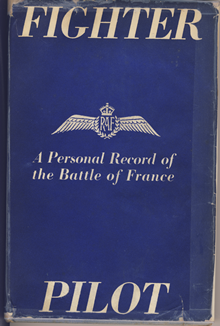 At first we were not allowed off the camp at all, but eventually we managed to get out for a bathe at West Wittering. At that time I don't think there was one of us who expected to plunge into the cool blue sea again, and then lie on the warm sand in the sun, or to skim over the waters of Chichester Harbour in a yacht, or to drive down to the " Old Ship " at Bosham in the evening and, with the cool air blowing through his hair, drink pints of beer or cider beneath the oak rafters. No one expected to go round the golf course at Goodwood again, or to see the races, or to walk over the Downs. Two nights before our departure for France the Squadron was allowed to go to the "Dolphin and Anchor" at "Chi.", and everyone concealed his depression, and laughed and talked and "knocked it back". But we were all thinking the same thing.
On Friday, September 8th, I was getting a few minutes' sleep in my room when my father walked in at about 9.30 a.m. I was very glad to see him, and we sat and talked of nothing in particular. At 10.30 my batman dashed in to say : "No. 1 Squadron called to readiness, sir " — and I hurried down to the aerodrome with the others. We were soon grouped by our machines on the far side of it, and as they were started up one by one, "Leak" took a photograph of us. We tore the squadron badges off our overalls (by order), and I gave mine to a fitter to give to my father, who was leaning over the fence watching us. We jumped into our cockpits, and as I taxied out I waved him good-bye.
We took off in sections, joining up, after a brief individual "beat-up", into Flights in sections-astern, and then line-astern. Down to Beachy Head, then, and with a last look at the cliffs of England we turned out across the water. As we did so, over the R/T from Tangmere came a farewell from our old friends and rivals : "Good Luck from 43 Squadron." There was not a cloud in the sky, scarcely a breath of wind on the sea, and the heat in the cockpits was almost unbearable, for we wore all our gear — full uniform, overalls, web-equipment, respirator slung, and "Mae West". Only the almost complete absence of shipping in the Channel brought home to us that there was a war on somewhere. In about thirty minutes Dieppe appeared through the heat haze, and we turned down the coast toward Le Havre.
The Fall of France, June 1940 (Heinemann, 1954)
Sir Edward L Spears, KBE, CB, MC
On the aerodrome I saw a picture and received an impression of beauty unequalled in my life. The nine fighter planes were drawn up in a wide semi-circle round the Prime Minister's Flamingo. Very slight they seemed on their undercarriages, high and slender as mosquitoes. Churchill walked towards the machines, grinning, waving his stick, saying a word or two to each pilot as he went from one to the other, and, as I watched their faces light up and smile in answer to his, I thought that they looked like the angels of my childhood.
As far back as I can remember I have been enthralled by pictures of angels; Michael Angelo's, Giotto's, Botticelli's attempts to depict these divine beings have given me pleasure, though if the truth be told, none of these great artists ever evoked the awe and love conjured up by the wide-winged angels of the prints in my nursery, to which we children lent such serene and protective powers. Here they were, as they had been so long ago, beautiful and smiling. It was wonderful to see. These young men may have been naturally handsome, but that morning they were far more than that, creatures of an essence that was not of our world: their expressions of happy confidence as they got ready to ascend into their element, the sky, left me feeling inspired, awed and earthbound.