Stanley North: Artist, conservator and ruralist
This posting could be subtitled: "Adventures in ancient and Modern taste". Or: "An illustrated sketch of a controversial paintings conservator, dedicated artist, craftsman and rural revivalist". Stanley Kennedy North (1887-1942) was my grandfather and I am hoping to see his work and role recognised, interrogated and archived.
Introduction
We know a lot about the great variety of SKN's life, and something about his art training and influences. SKN's taste for Medievalism and his being a pioneering "Modern" make his an interesting case in aesthetic fashions. Because he fits no labels he has slipped through history's fingers. Besides, he was a showman and a maverick and thus easy to dismiss.
I am hoping that over-hasty accounts of SKN as a well-known and controversial conservator of paintings can be enriched by an understanding of his wider creative activities. He is worth seeing in the round, if only so one can be properly aware that if he was mercurial (as Eleanor Farjeon wrote), and a showman, he was also very rooted. (Mea culpa: I also need to correct some misimpressions created by my own earlier writing on SKN – see footnote below.)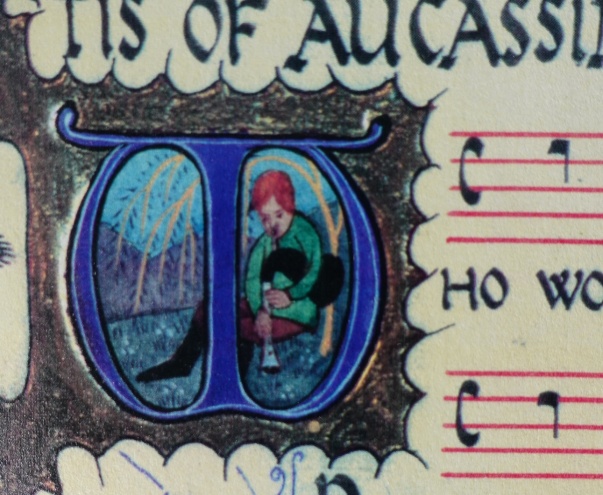 SKN was an eclectic hands-on creator of painted glass panels; toys; illuminated manuscripts; Modernist "utility" furniture; copies of Renaissance paintings and medieval English stained glass; witty maps (one of them an early schematic), and stylish Modernist advertising posters. From the 1920s (and maybe before), he was a performer on the Northumberland small pipes (see picture, left, from his undated illuminated manuscript of the French early 13th Century Aucassin and Nicolette) and a singer of Northumbrian songs. Towards the end of his life he was busy with organic farming and human sewage issues. It may be that the Arts and Crafts champion W R Lethaby was key to many of these interests and may even have influenced SKN's role as a paintings conservator.
SKN was an intelligent and articulate auto-didact. His eloquent writing on what one might call "Polite Modernism" shows him broadly in line with friends such as Paul Konody; he both co-wrote with "progressive" Roger Fry and championed "conservative" William Nicholson and Alfred Munnings. He campaigned repeatedly and knowledgeably on national conservation policy and funding.
There is a good deal of easily-available evidence about SKN's work as a paintings conservator throughout the 1930's as we shall see (below in the timeline).
Three areas of SKN conservation controversy stand out. Was he the technical innovator of his expert contribution to the first international conference on scientific art conservation in 1930 in Rome, or Kenneth Clark's "fraud"? Did he entomb paintings (especially the Mantegna works) in paraffin wax, or did that technique unwittingly pioneer "permanent reversibility"? Was it important that SKN insisted he was a "conserver", not a "restorer" (using, he claimed, "not a dab of paint" on several key jobs), but also maybe a liar who sometimes applied paint?
His admirers, one at least of whom (Frank Rutter) later picked a public bone with him, were mostly distinguished. At least two of his major customers (Lord Leconfield with the Petworth House Turners, and the King and his Duccio), turned against him. Were these spats importantly about conservation issues, or more a matter of temperament? George V (or perhaps the King's art advisers) came to think SKN a "charlatan". Kenneth Clark seems to have concurred (as shown by a Burlington Magazine article). Anthony Blunt seemed to waver in his view of SKN's work on the King's Mantegnas at Hampton Court (but in a 1979 conversation with RDN gave SKN an almost positive scorecard, see below in the timeline). (RDN archive has some rare evidence on these controversies.) In 2015, the National Gallery's Technical Bulletin No 36 seems to bring some balance to the discussion (online).
We so far lack a systematic timeline account of SKN's conservation work; the evolution of the techniques he deployed; and a blow-by-blow of responses to them. At least one researcher, Camille Polkownik) has made a valuable start on those, with wide public domain reading, and access to Courtauld material (and to RDN's archive).
We also lack a critical analysis of two critical areas: the conservation world SKN was working within, and of all the divided opinions of him.
Almost as interesting: there is a crucial gap in the SKN story and timeline. Where, how and from whom did he pick up the painting restoration/conservation skills which had produced a practice worth media attention by 1929? Where did he get his chemical and photography skills? Where did he get his X-ray equipment and experience, when both were still uncommon?
Thus, we can see SKN as an intriguing and attractive figure whose historical role is ripe with eye-catching features.
There is probably much more of SKN's works and doings to come to light, but meanwhile a pair of major pieces of his mature painted glass works (1938) remain hidden within easy reach at the Norwich and Norfolk University Hospital. I long for them to be restored and displayed as examples of SKN's being an artist and a herbalist.
SKN (1887-1942) illustrated timeline and some leads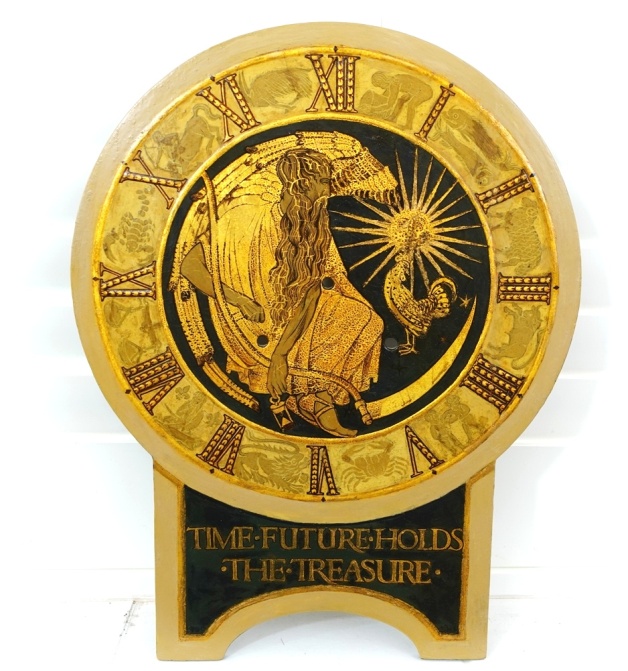 1887: SKN's birth certificate has him born 11/4/1887 at 1 St Luke's Terrace, London and named as "Harry Stanley North") [and his 1942 death certificate as "Stanley North" see below] (RDN archive)
Before 1915: there is evidence of SKN having been at the Royal College of Art (mainly known as "South Kensington" at that time) under W R Lethaby. (See 1915, with its Studio item below.)
1909: This is only speculation but it may have been in 1909 that SKN made his surprisingly upbeat clock face ("09" is written under his monogram on the reverse). (Wood, 44 cm x 34 cm, RDN archive.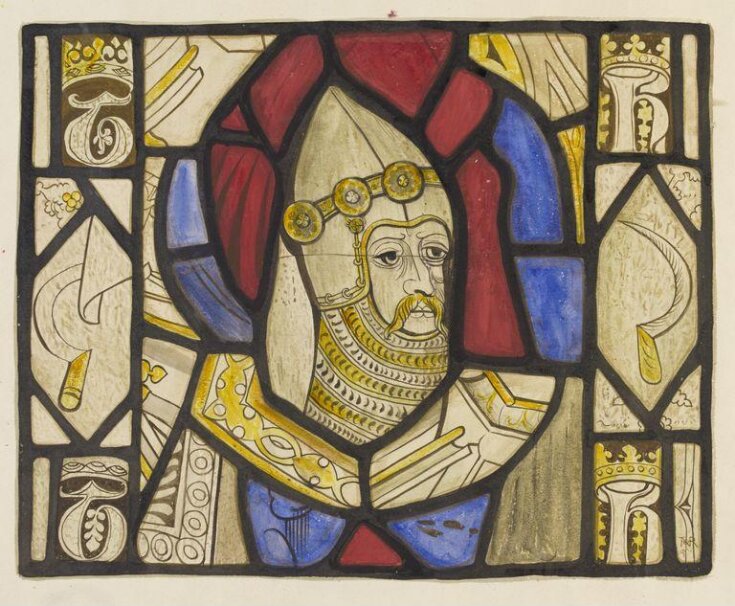 1910-11: SKN did watercolour paintings and drawings of 13th Century and later stained-glass windows and statues. (The V&A has over 100 of them, and publishes them online.) Examples include: "Watercolour copy of a 15th century stained-glass window with the head of a bishop in King's College Chapel, Cambridge" (mis-ascribed as 19th Century by V&A); Speaker (of the House of Commons) Sir Thomas Hungerford traced from a 15th Century stained-glass window in Farleigh Castle Chapel, Somerset and SKN's watercolour drawing of the above.
1911: There is a cache of seven handwritten SKN letters to Vera Rawnsley/Vera North (and one introspective note to himself) discussing his glass/Medievalism interest; his work and courtship and marriage anxieties; the scepticism of a friend as to Stanley's "medievalism", and his marriage proposal to Vera. It mentions a V&A's small payment for a glass drawing and SKN's friendships with glass notables, young and old, including some evidence that he was working for or being trained by major figures in glass. Also mentioned are his relaxing visits and overnight stays with "Heddie", the wife of Alan Gardiner, the archaeologist, in the Gardiner's country house.
(RDN archive: Letters and note wrapped in tissue paper, ribbon-tied and noted in pencil in Vera's hand, "For Paul" (her son by SKN from whom she separated and was divorced a very few years after their 1911 marriage). The letters have been scanned but are yet to be transcribed. See also photo at left, from a glass negative c1915. All candidates for archive?)
1912 SKN's Xmas card for 1912, as noted in his wife Vera's handwriting. She invites us to note his favourite "lizard" signature. Also noteworthy is that at this time his initials appear as S[tanley]H[arry]N[orth] (RDN archive. Candidate for archive?)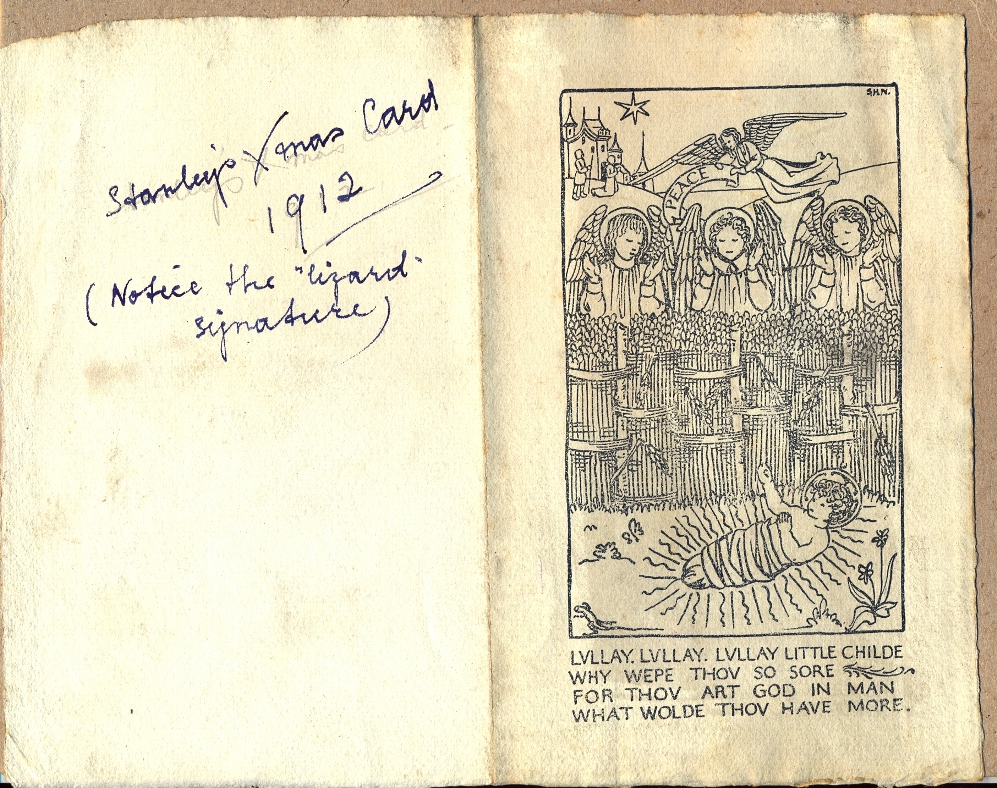 SKN made a 21 cm x 16 cm painted glass panel and probably/perhaps gave it to his then wife, Vera North, of whom it may well be a sort of portrait. It bears his signature lizard. It is undated but might have been made and given her between 1911 and 1916 (when their marriage was on the rocks).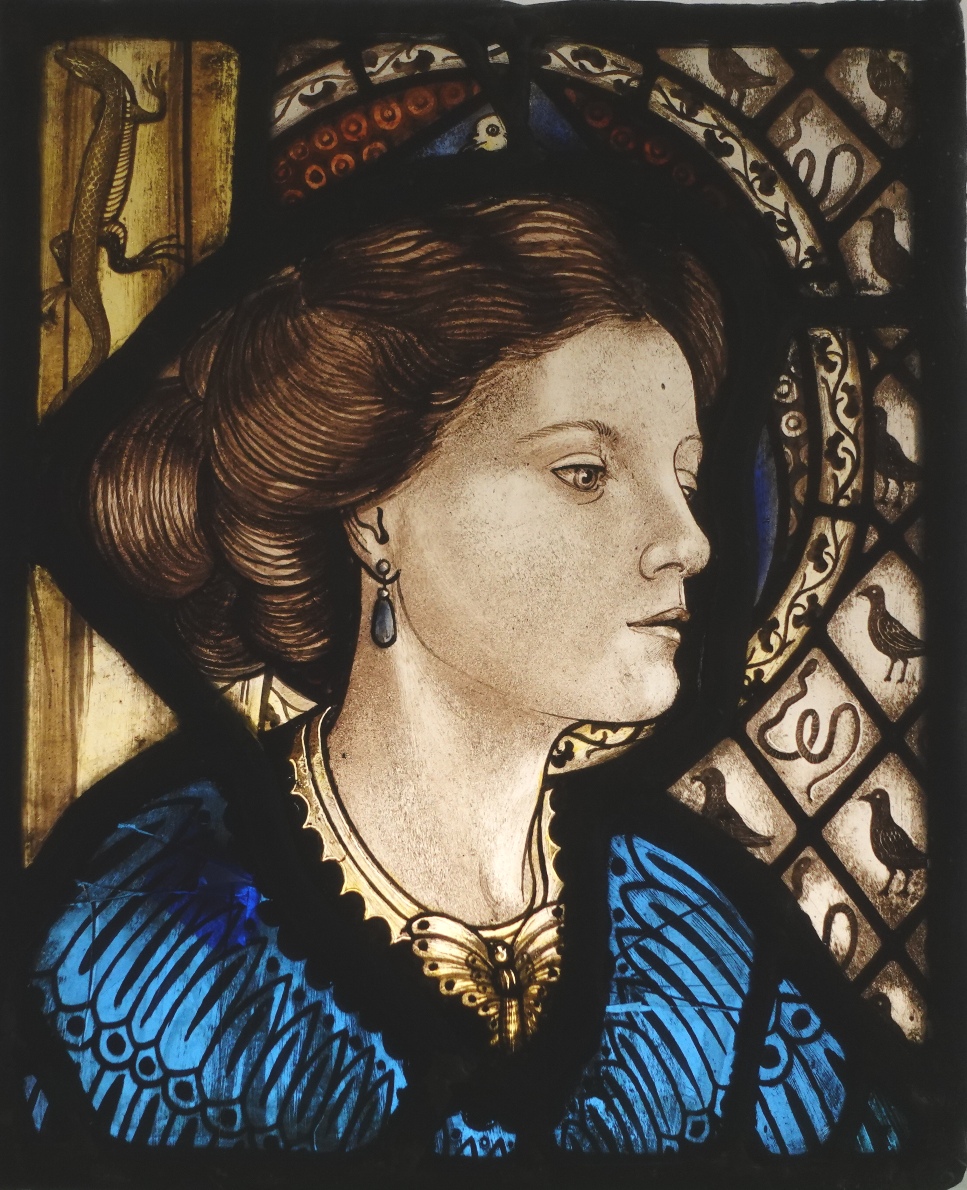 1912, June: SKN wins an LCC award for his "St George and the Dragon" tempera painting for the school halls at Cable Street and Commercial Street. It was amongst works displayed in The Exhibition of Designs for Mural Painting at Crosby Hall, Chelsea including offerings by Walter Crane and other big figures. (See 1915 Studio item below.)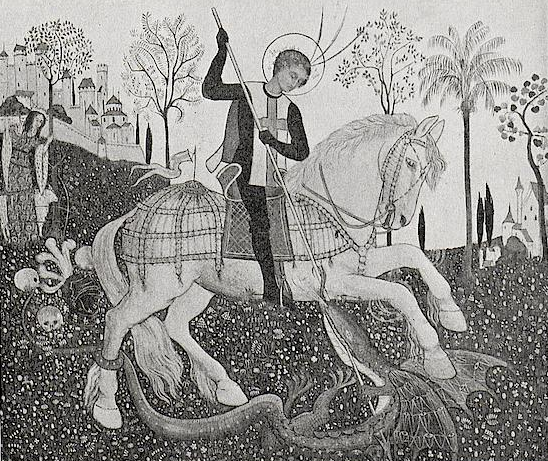 1914: Child's ABC of the War, "by Geoffrey Whitworth [campaigner for the National Theatre], with pictures by Stanley North, George Allen & Unwin Ltd, Ruskin House, 1914". The "D is for Dreadnaught" is typical of the work, and seems "Modernist" in the manner of some 1905 Japanese postcards of the Late Meiji period, especially those depicting the Russo-Japanese War (1904/5). (Hardcopy of book in RDN archive. Candidate for archive?)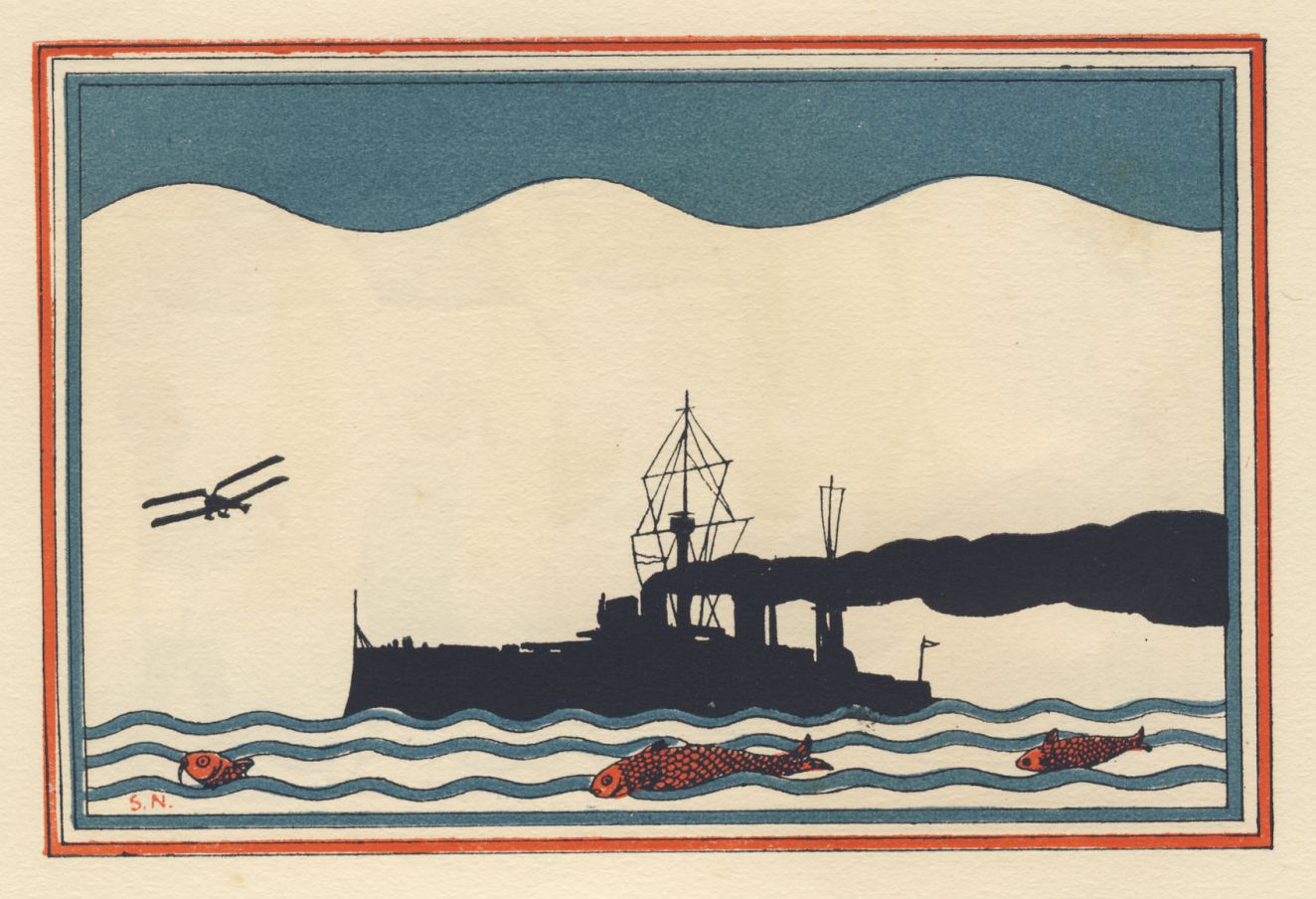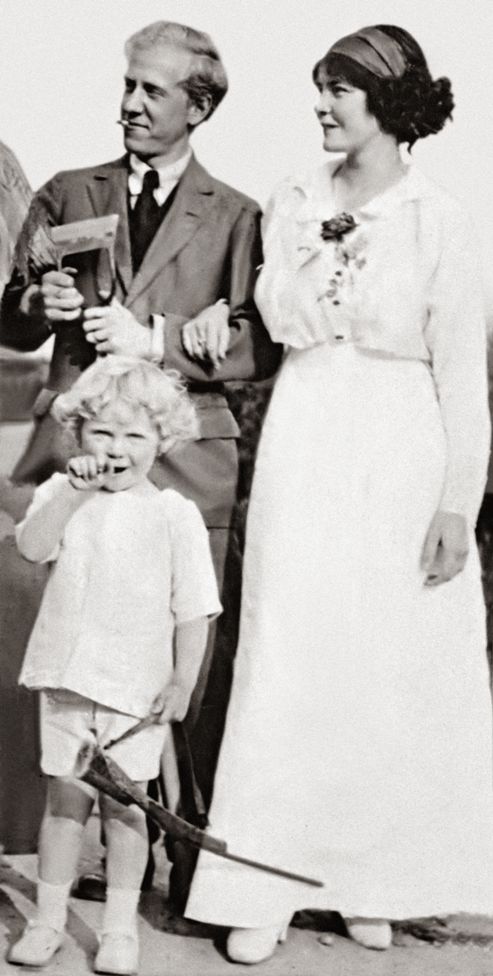 1915, quite possibly. RDN has a glass plate negative of an image of Stanley and Vera North and their child (RDN's father) Paul Arundel North (1912-2001). It was in an old Kodak paper wallet and within a fitted envelope in Vera North's handwriting saying, "Stanley, Paul, Minka [Vera's nickname] Little Kingshill." That is near Great Missenden, Herts, and was – on other evidence – the location of "The Hut" where Vera seems to have lived perhaps with SKN and Paul, and maybe also on her own with Paul after SKN left. (Or maybe they/she used it as a weekend home.)
I have a note (somewhere) from PAN saying that he didn't quite know when Vera went to live at The Hut, or for how long. There are also snaps of The Hut, etc, in PAN photo albums.
05/09/1916: Edward Thomas is reported as saying or writing, "…. might go to Stanley at [The Hut, presumably] Missenden". So presumably SKN was sometimes, often or always there.
1915: Studio's "Studio-talk" section (October, 1915, No 271) has a paragraph and a page of images of three SKN glass works bought by Rev A T Finch, John Lane (two publishers, father and son, shared the name), and Clifford Bax, the 1912 St George image (above); and his training at the Royal College of Arts (aka "South Kensington") under Arts and Crafts guru and educator W R Lethaby. (The glass-works image and text from The Studio are in the Heidelberg University collection; image page is also an RDN archive item. (Candidate for archive?)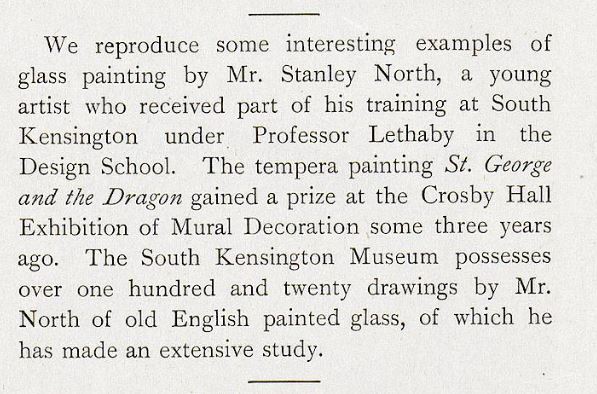 1916, June: Vera sues Stanley for the restitution of her conjugal rights (at that time sometimes a prelude to a divorce) on the grounds of his refusal to co-habit. (He claims in his legal response that he has found someone more compatible.) (Online records at Ancestry.com)
1916: SKN, the Gardiners, and as Conscientious Objector
According to Margaret Gardiner (b.1904), the daughter of Hedwig "Heddie" and her husband, Alan Gardiner, the Egyptologist, SKN frequently visited the family in their London and country homes, often staying the night, and much more as Heddie's welcome guest, and Margaret's, than Alan's. SKN's 1911 letters show that such visits had been going on at least since then and it may well have been Heddie who introduced Stanley to rural revivalism, folk music and the organic movement. Margaret wrote that the socialist and pacifist SKN strongly and permanently influenced her early teenage self in later becoming a patron of the arts and a peace campaigner. (In a conversation with RDN she described the joy SKN brought her.)
Margaret also wrote that her mother's diary has SKN going before a Military Tribunal at Fulham (presumably sometime in the period of conscription, 1916-1919) and gaining a temporary exemption from war service as a Conscientious Objector. There is no evidence as to what degree SKN was then on the run or in hiding. However, at some point, during one of his country visits, Heddie tells Margaret to warn Stanley to hide and also tells her daughter to say nothing about Stanley's presence. Military Policemen had been spotted walking toward the house, but it is not clear that they were specifically targeting SKN. (Physical evidence: Margaret Gardiner, A Scatter of Memories, 1988. This seems to be majority source of the Peace Pledge Union's online listing of SKN as a CO on the run. )
1919: SKN makes a copy (on paper?) of a V&A holding, an Italian master of the 16th Century. It seems to be a "warts and all" account, which may indicate SKN's interest in the embedded history of an old painting, including damage. In a 1970s correspondence, the V&A admits that SKN's ascription of the painting is probably more right than their later accounts. SKN seems to date his copy work in a "cod" ascription within it. (The 62 cm x 48 cm painting, including frame, and some later V&A correspondence on the ascription issue are in the RDN archive. (Candidate for archive?)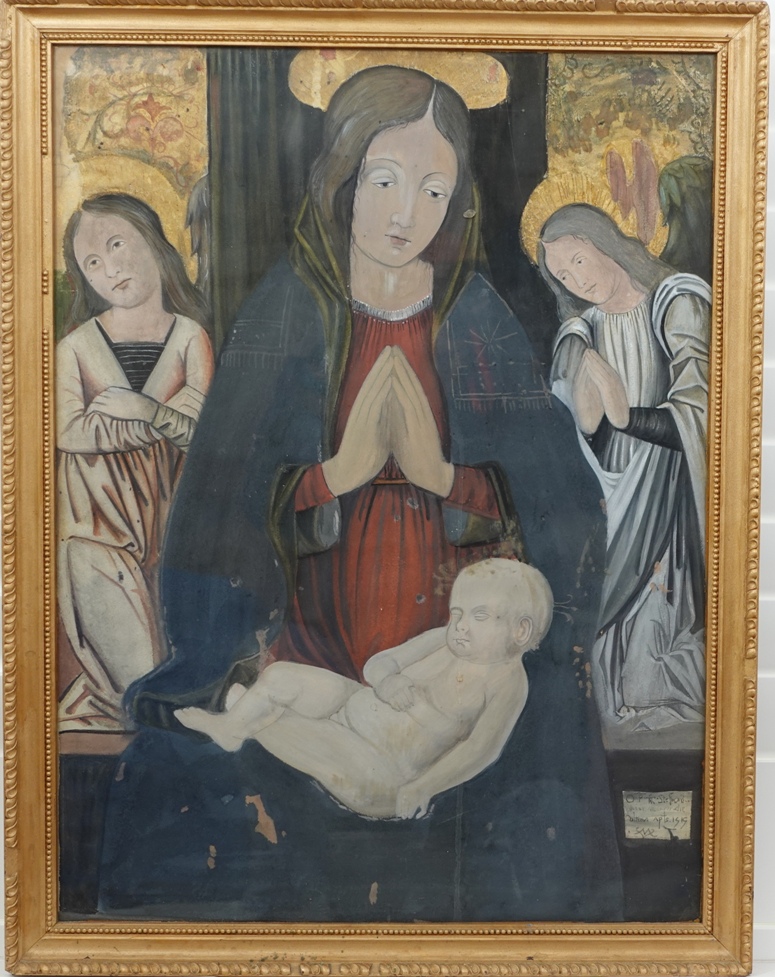 1921: Mr North's Maggot, English folk dances pictured by S Kennedy North, with an introduction by folk music guru Cecil Sharp [Dated "November, 1921"]. "Published by S Kennedy North, at Flat 5, 47 Bassett Road, London, W10, 1921", "Five hundred copies only printed, No 415". Dedicated to "Helen" (Helen Kennedy, whom SKN married in 1920, following which he became Stanley Kennedy North), its cover has a self-portrait of the artist. (Material evidence in RDN archive. Candidate for archive?)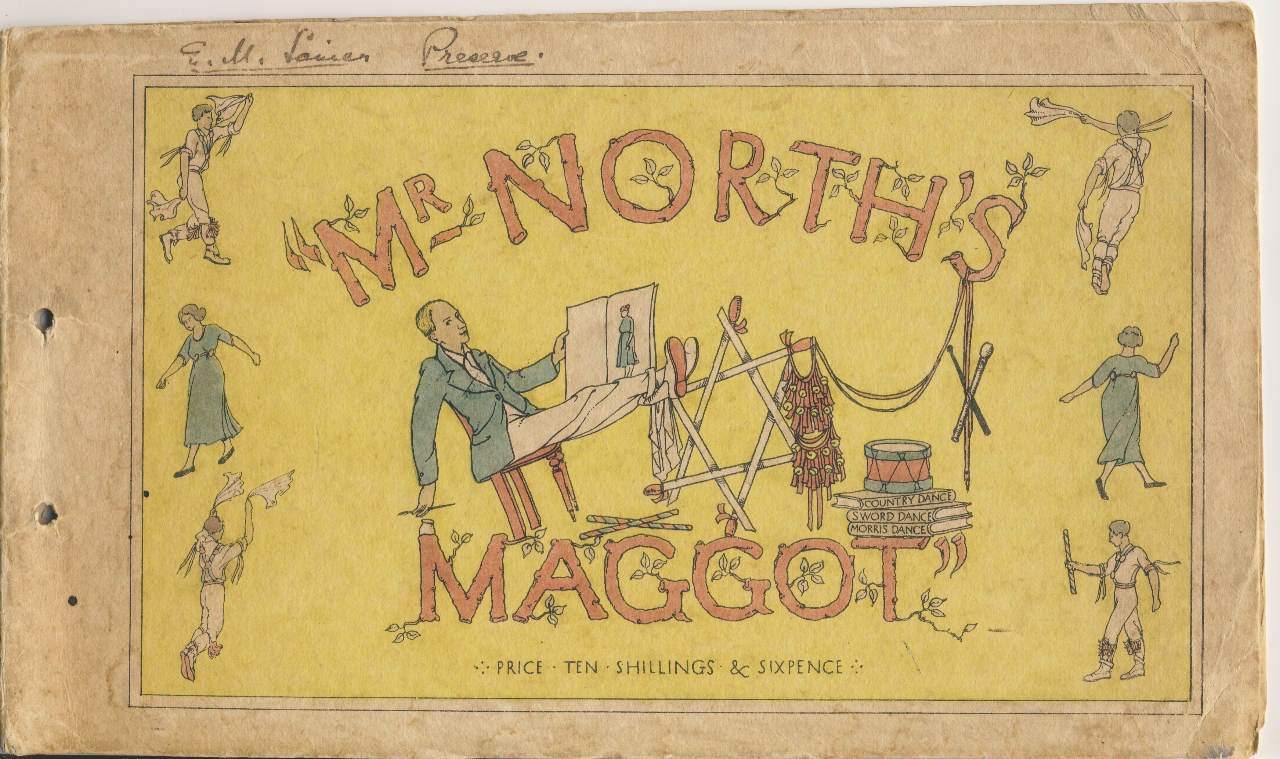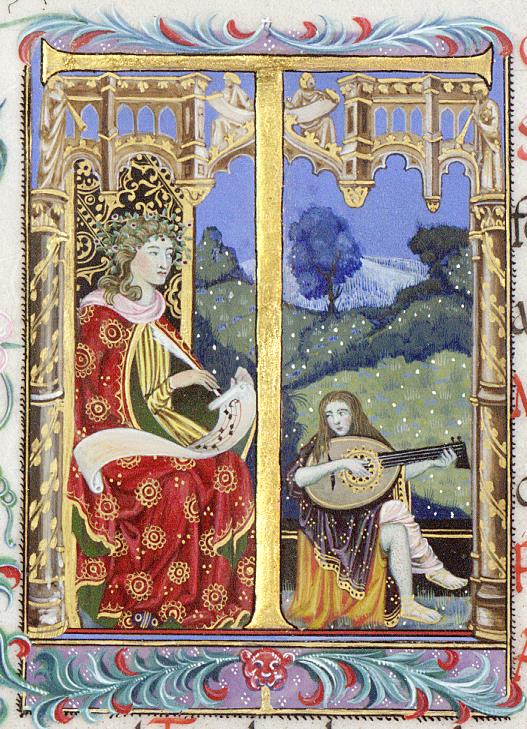 1922: SKN's Medievalism extended to several homages of his own devising. Dating them is difficult except in the case of the tribute triptych he did for the Royal Academy of Music's Tobias Mathay's 1922 Jubilee and signed by many famous pianists and composers of the day. (Online at BBC/Artfund.)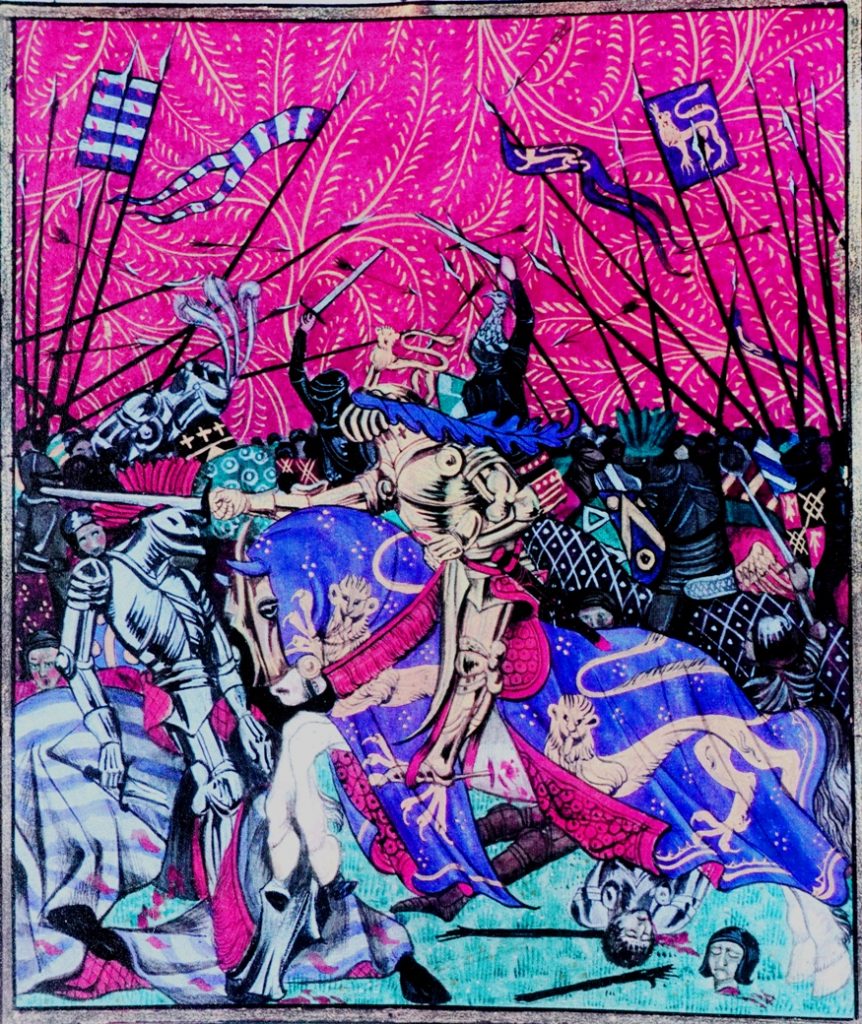 In the mid-1920s, SKN was certainly producing works on paper in the "Très Riches Heures" style of Romantic 15th Century illustrated manuscripts. Probably in this period he made an undated homage to Aucassin and Nicolette. (Photocopies of some of the original in RDN archive. Originals may be with the family of Roger North, son of SKN's second wife.)
Undated. A good example of SKN's medievalist style: four small undated panels (two sampled below) sold well at Christie's in 2014, rare pieces of SKN's work at auction. Online and in RDN digital store.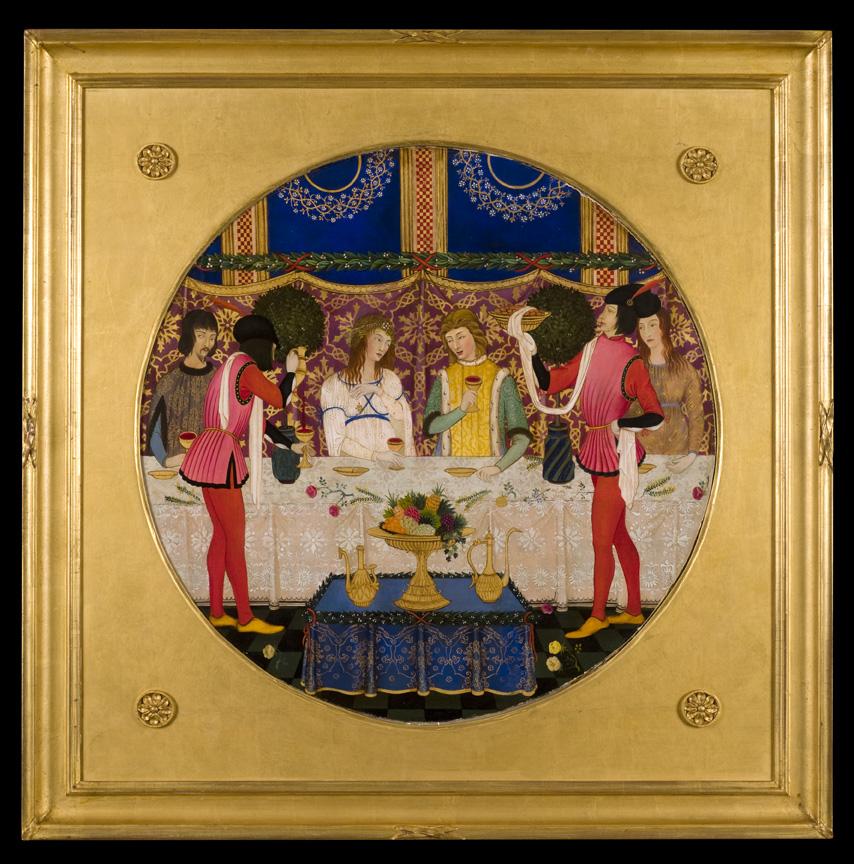 1923: A letter from SKN to Alfred Munnings perhaps soliciting work and a visit to Munnings' home in Dedham, Norfolk. (RDN has digital PDF from Munnings Museum, October 2021.) That leads us to Munnings' affection for Laura Knight (see his autobiography in Book References, below) and also to Paul (P G) Konody putting Knight and SKN on the British Council committee on the Venice Biennale pavilion exhibition of contemporary art. (Online at British Council history site.)
1923: SKN writes a hardback illustrated monograph, William Nicholson, for the Contemporary British Artists series. Sanford Schwarz (in his biography of WN (William Nicholson, 2004) calls it "the first significant publication on [William] Nicholson". SKN is identified only by his initials. (RDN archive has the monograph and the Schwartz. Candidates for archive?)
1923, Drawing & Design covers: June notes SKN contribution and September has SKN on "Fish" (and Konody on Glyn Philpot). (Online Google image search.)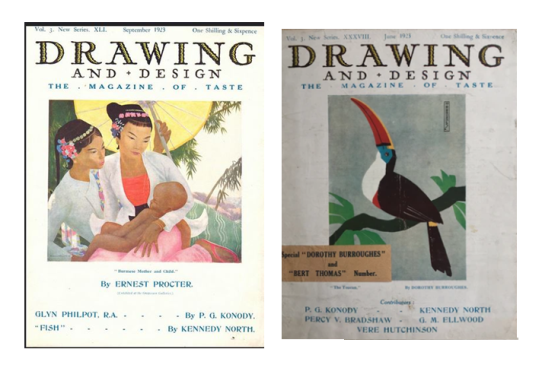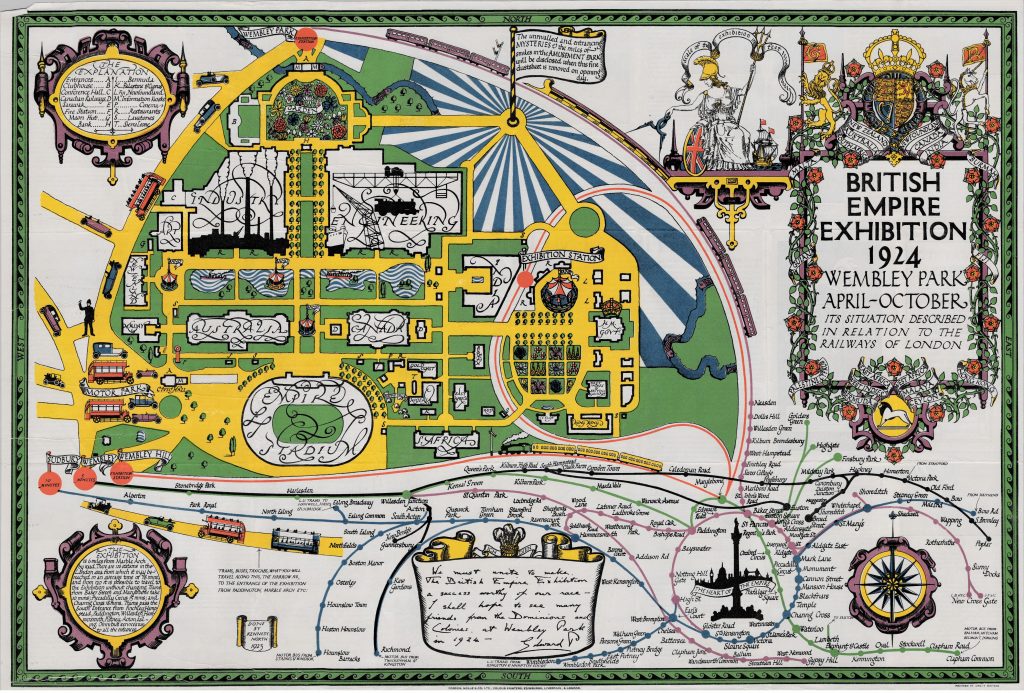 1924: SKN's maps for Thomas Cook of world shipping routes and the London transport connections of the British Empire Exhibition stand comparison with Mac Gill's work, and the Empire Exhibition map is an innovation in schematic mapping, upstaging Gill's earlier efforts and prefiguring Harry Beck's famous maps of 1931 and onwards, as noted online by map specialist Tim Bryars). (Both in RDN archive. Candidates for archive?)
1924 SKN contributes two elements to Queen Mary's Dolls' House: a frieze of the 1911 Coronation procession for the exhibition room's wall, and a rocking horse for the Dolls' House. ("6.5 x 11.5 x 4.2 cm (whole object) RCIN 230228", says Windsor website.) The frieze image is from Lucinda Lambton's book on the Dolls' House; the rocking horse image is available online.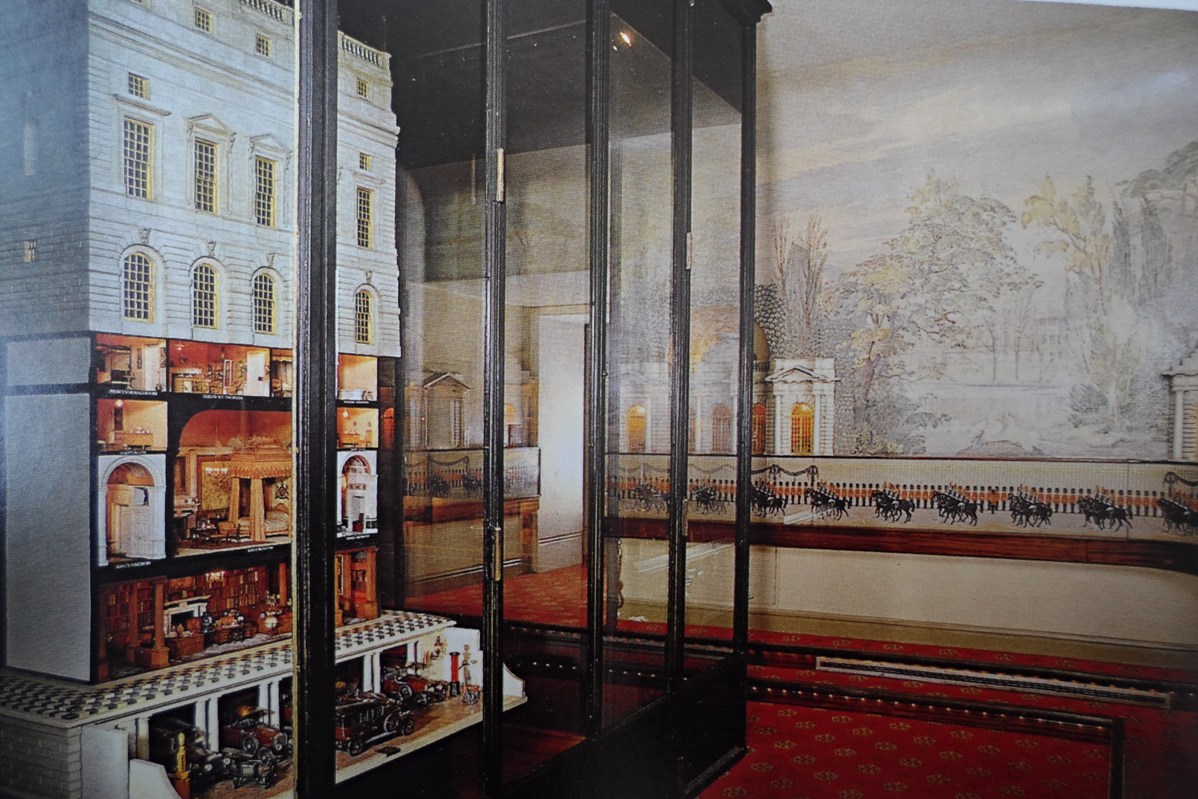 1925, 26 May: online The Times has correspondence including from SKN defending the Jacob Epstein Hyde Park sculpture for the "[W H] Hudson Memorial", for the author of Green Mansions (1904). (See also: https://www.londonremembers.com/memorials/w-h-hudson-memorial)
1926, May: The American Magazine of Art [AMA] and "from India" notes that SKN has visited and provoked anxiety that native Indian art was being sidelined. By Bipink Sinha [is that SB below?]
1925 and 1927 see SKN working naturalistically for poster series. It's a style he returns to in 1931. (See image from Commercial Art, January 1927, "Mac Fisheries publicity", by writer on art and nature, G S Sandilands, which celebrated SKN's "brilliant" drawings of mallard, snipe & woodcock, pheasants, and ptarmigan for the fish and game merchant's publicity campaign.)
(https://magazines.iaddb.org/issue/CAI/1927-01-01/edition/null/page/290)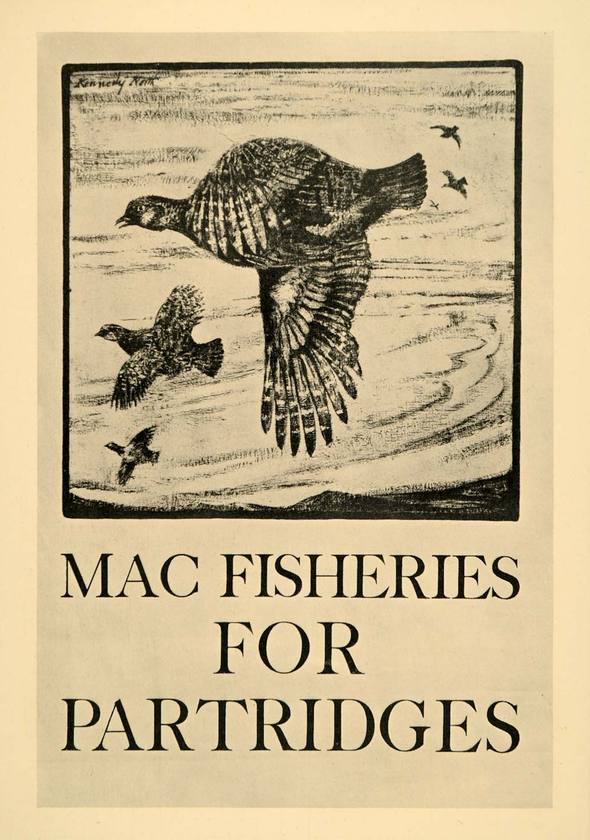 1929-now
From 1929 until his death in 1942, and posthumously, SKN's conservation work is widely covered in online public domain material, mostly newspaper and arts magazine material (scantily sampled below) but also in formal research archives. There is a good deal of offline, physical material, for instance in the National Gallery of Scotland. Throughout the 1930s, there is both a good deal of distinguished praise and some condemnation for his work on Mantegna, Duccio, Titian, Turner, Cotman, Manet, and Renoir. The condemnation grew after SKN's death and was only somewhat mitigated in the 2010s. (See below.)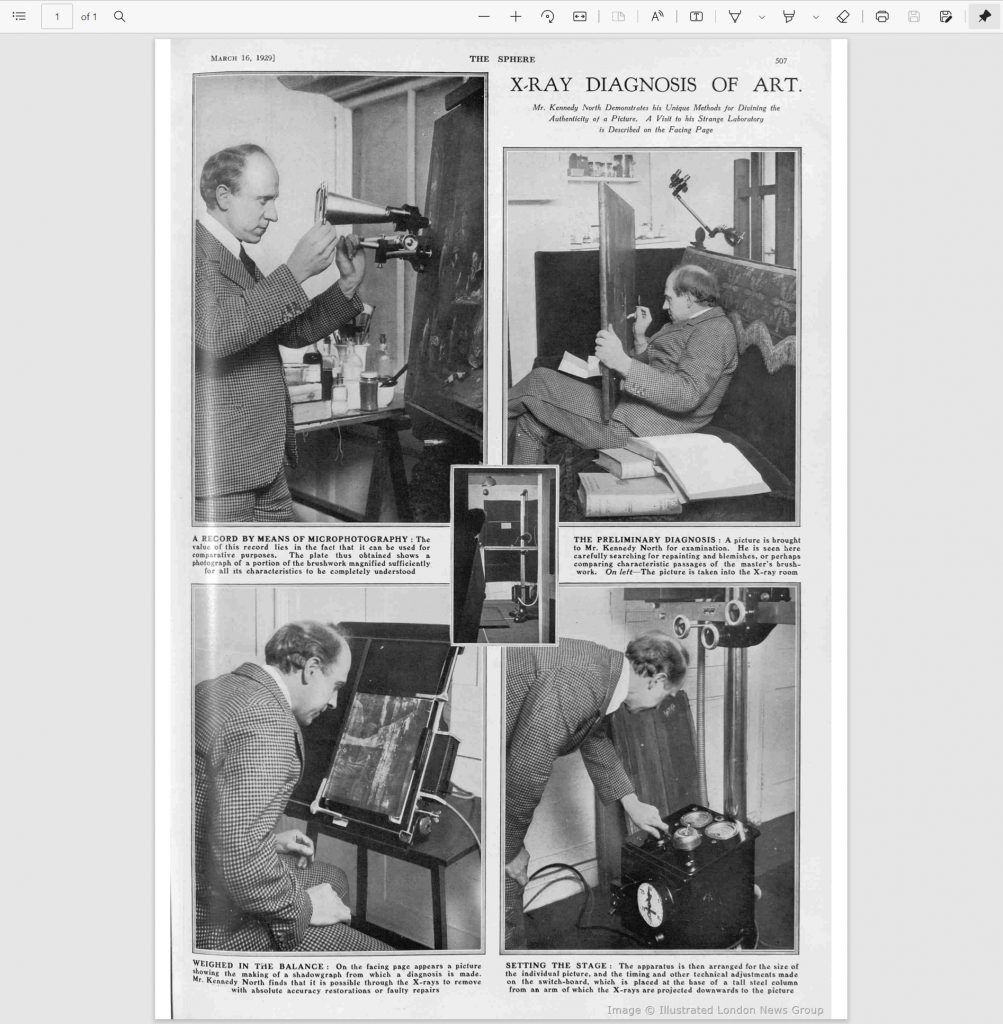 1930 sees SKN attending and speaking at the first "International Conference for the Study of Scientific Methods for the Examination and Preservation of Works of Art". It belatedly produced an anonymous Manual on the Conservation of Paintings (1940). In an unpublished paper, Camille Polkownik suggests some of the book may well be SKN's work. (Hardcopies of the 1940 report are sometimes available in reprint.) Online, The American Magazine of Art [AMA] and "SB" in London Notes" reports on the attendance of "Mr Kennedy North" at a restoration conference in Rome; The Times reports a row in Rome, and notes SKN's paper.
1930 Online, The Burlington Magazine has SKN writing on The King's Duccio
1931 SKN paints "Fish and Otter" for Shell's "Quick starting" campaign. (Online at The National Motor Museum [NMM], and physically at the NMM and the V&A collection.)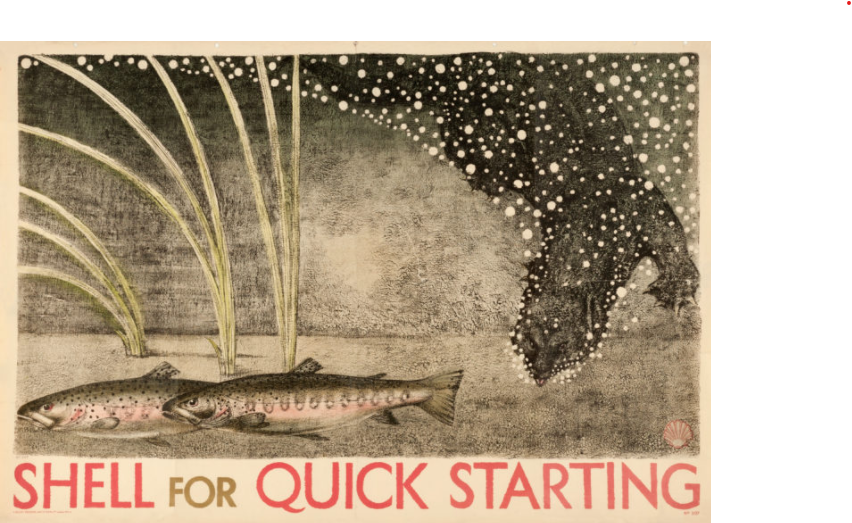 SKN's painting of waders (perhaps knot or snipe) is untitled online but seems to have been catalogued (but not displayed) by the V&A as "Wild Ducks" which can't be right. (The image is unsigned, but bears comparison with the signed Mac Fisheries 1925/7 series above and SKN's 1938 glass painting in NNUH below. It is praised in Commercial Art, July 1931.)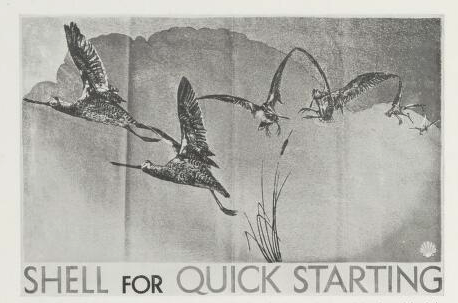 1932 Online, The Burlington Magazine (March) has SKN writing on Titian.
1933 Online, The Burlington Magazine has SKN and Roger Fry co-authoring on Titian.
1933/4 Edie Nicholson and SKN start some sort of dalliance or alliance, as attested by Edie and William's daughter Liza in a conversation with RDN. The pair remained affectionate for the rest of his life, according to Sanford Schwartz, William Nicholson, 2004. (See Book References, below.)
1935 SKN is invited to submit a design for a stamp commemorating King George V's Silver Jubilee. His work lost out to that of Barnett Freedman.
1930s general: Online, The Burlington Magazine piece (February 2004) which has Ben Nicholson (not Ben, son of William, but the BN who edited The Burlington) being warned by "[Kenneth] Clark" against having SKN to speak (at some event or other perhaps) because he was "a fraud" and to go for the NG's Helmut Ruhemann instead. (A "Ruhemann vs SKN" compare and contrast seems likely to be fruitful.) Online: Elam, Caroline, "Benedict Nicolson: Becoming an art historian in the 1930s", The Burlington Magazine 146, no. 1211 (2004): 76–87.
1937 SKN writes to The Times about the King's Balmoral flax production and how useful it is in reviving high quality flax of the kind SKN finds invaluable in his own work. (CP found the online lead.)
1937, July, The Nineteenth Century and After, a journal, has SKN article, "Pictures Are Not Only Art". (RDN archive has original 10 page reprint of this journal article. Camille Polkownik [CP] also has a copy and intends to donate it to an archive.)
1938 SKN writes the Preface to the catalogue for "Paintings by A J Munnings, RA since 1928", April – May, 1938, London, Leicester Galleries. (RDN archive has PDF from Munnings Museum.) Online, The Times and Observer note its wit and insight.
19/01/1938
The Times, SKN letter to the Editor on primitive control of temperature and humidity in the National Gallery.
1938, August 22, The Times
"Soil and humus": Letter to The Editor from "S. Kennedy North, 31 Ladbroke [Grove], W11", revealing his research and connections, not least to Chelsea Physic Garden and a gentle hint toward "Norfolk" support, perhaps from the royal estate at Sandringham, or maybe the Colmans at Norwich.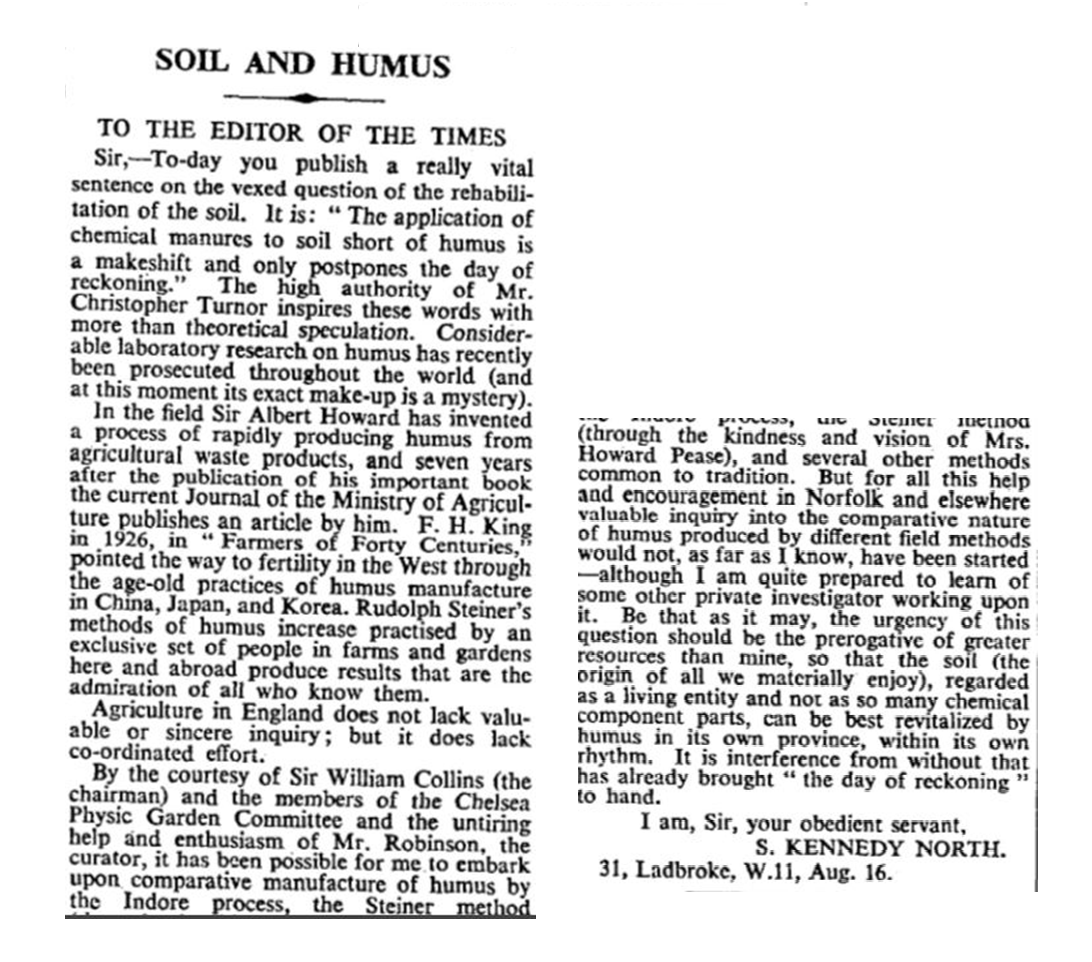 1938: SKN working for his Norwich patrons, the Colman mustard family, produces three painted glass panels, now in the possession of the Norwich and Norfolk University Hospital, which displays one (not very well) and has two others in store. One stored panel is a celebration of herbalism and its contribution to modern medicine.
See: https://richarddnorth.com/2014/10/stanley-kennedy-norths-stained-glass-1/

And…
A 1938 SKN panel from "The Web of Life" in store at NNUH (2014, unrestored and photographed in bad light):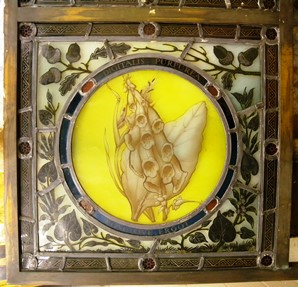 An SKN 1938 panel from "Tree of Life", on display at NNUH (as at 2014). Note similarity in SKN wildlife sketches in both advertisements and glass drawing.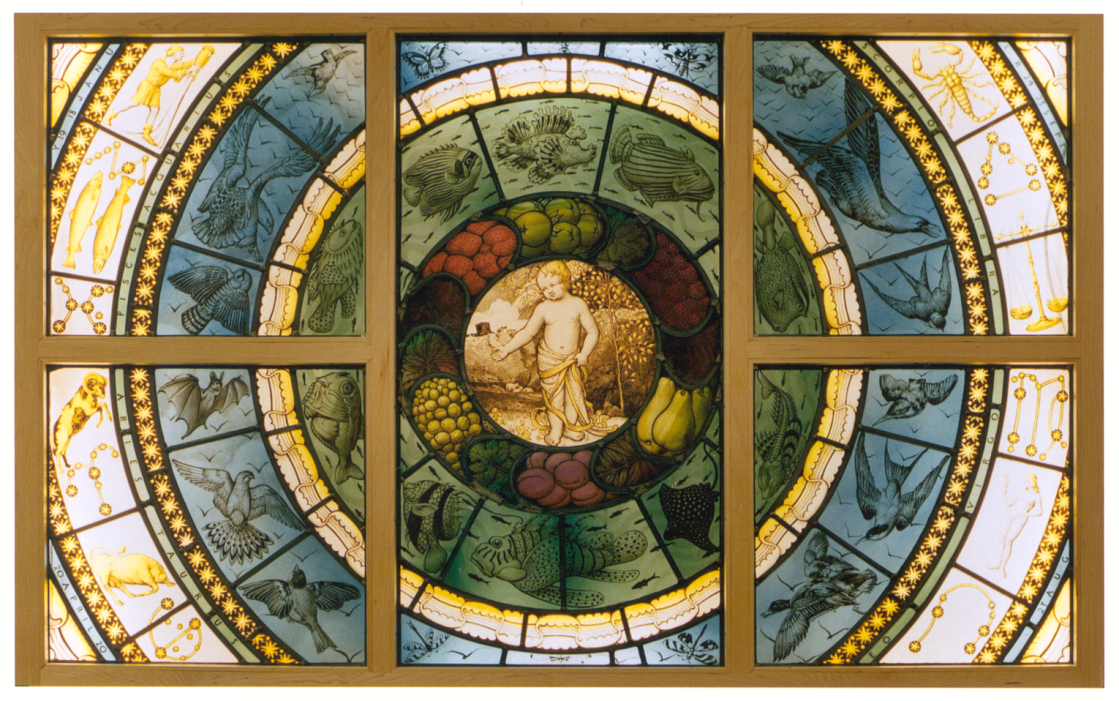 1942 SKN death (16/6/1942, 31 Ladbroke Grove, London, as "Stanley North", "Agricultural research scientist) (and birth) certificate (RDN archive.)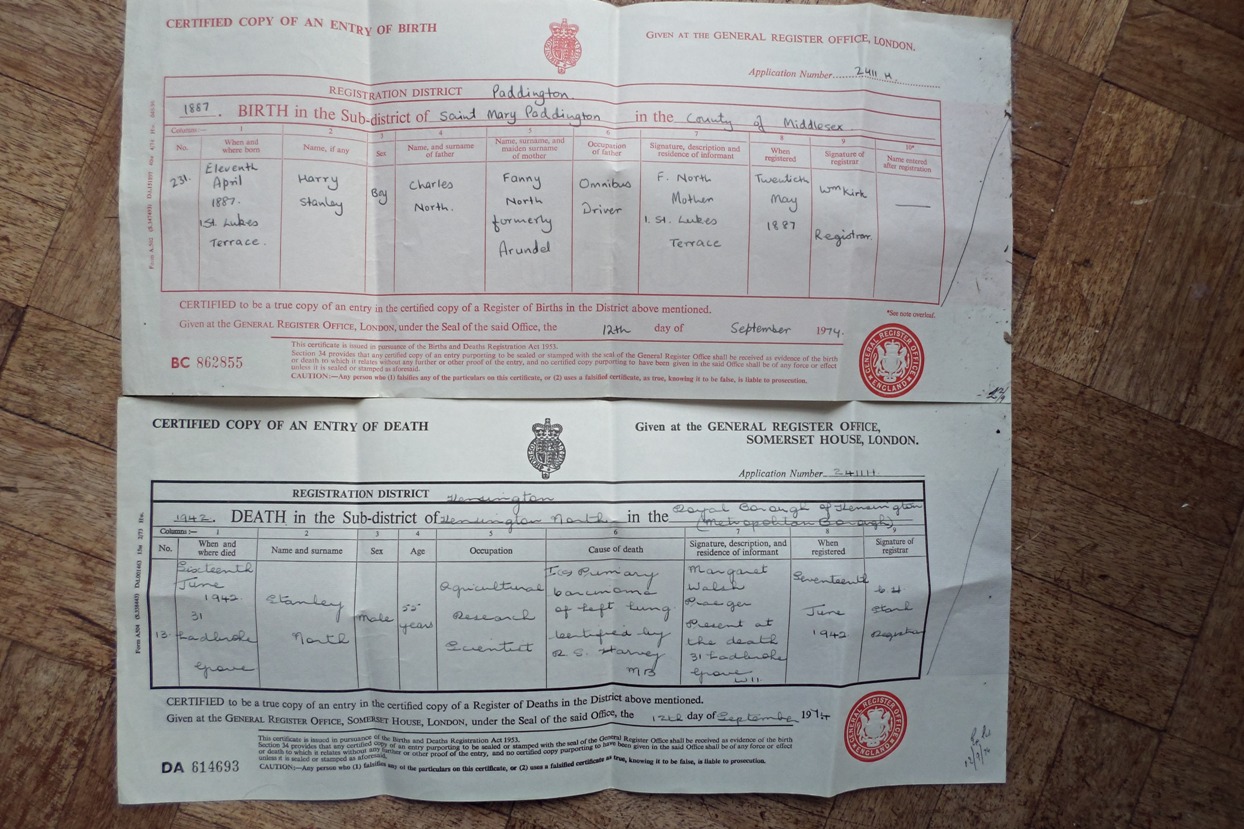 SKN posthumously
1952 Alfred Munnings publishes the last of his autobiography trilogy which includes (pages 246-8) an account of a bibulous (undated lunch with Percy Moore Turner and SKN in which they tell of PMT's purchase (for Courtauld?) of Manet's "Bar of the Folies Bergère" and adventures in conserving it. (In RDN archive, see book references, below). AJM speaks of an important correspondence in The Times, on "What is Modern Art" which led to this lunch. (In RDN archive, see book references, below.) The danger of moving "The Bar" (flaking paint, etc) also figures in published controversies and notably in Camille Polkownik's unpublished paper. The issue of moving old paintings are also touched on in the AMA records from December 1930, above (I think I recall).
1962: Online, The Burlington Magazine has one of several Anthony Blunt pieces on work on Mantegna's works, Including SKN's 1930s treatment.
1965, "Caesar Revealed: A triumph of the restorer's art", by Sheila Hale, The Weekend Telegraph Magazine, 30 July 1965. Presents an account of Sir Anthony Blunt's organising a "brave" restoration of Andrea Mantegna's picture cycle, "The Triumph of Julius Caesar", which had been abused in various ways over the years. And then, "Finally, in the 1930s, the pictures were embalmed in a kind of weather-proof tomb of paraffin wax, this being the method of conservation favoured by Kennedy North, a fashionable restorer." (Online, and RDN archive physical item.)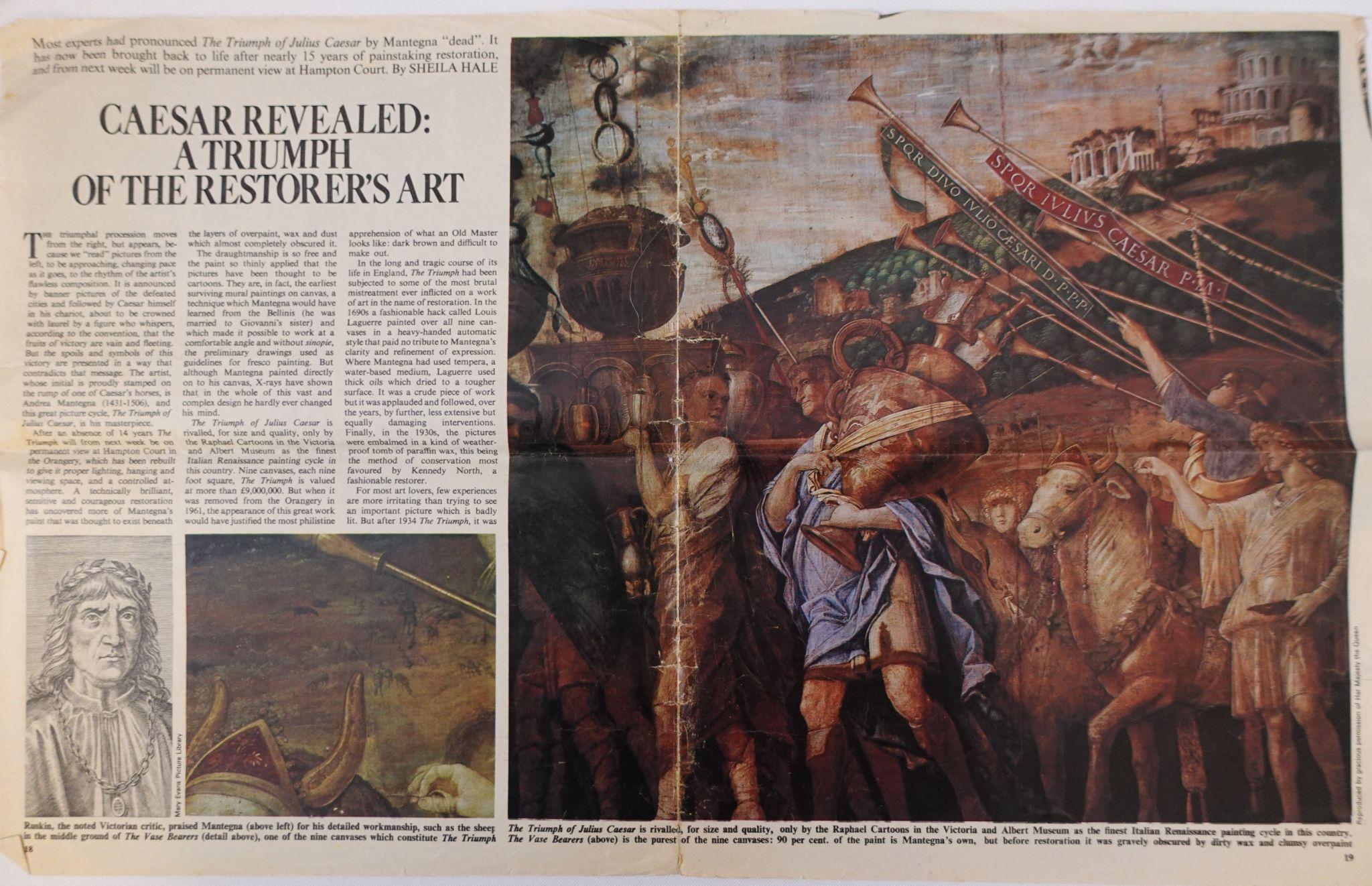 1979: Just before his public exposure as a spy in November, Sir Anthony told RDN in a private conversation that SKN's treatment of the Mantegna works at least had the merit of being removable and of having preserved them for future, more advanced, techniques. Thus SKN might be thought of being, unknowingly, a pioneer of "permanent reversibility".
(In that conversation Sir A also tells RDN of a conversation he overheard at the Royal Academy in which SKN makes a typically outspoken remark about Boucher.)
2015: The National Gallery (London) publishes Technical Bulletin Number 36 devoted to "Titian after 1540: Technique and Style in his Later Works" and "The Conservation History of Titian's 'Diana and Actaeon' and 'Diana and Callisto'". SKN's work figures prominently, and in a rather more positive light than was common in the late 20th century.
Online and free download: https://www.nationalgallery.org.uk/research/research-resources/technical-bulletin/technical-bulletin-volume-36
Miscellaneous references
Undated: V&A search for "S Kennedy North" gives (inter alia):
https://www.vam.ac.uk/archives/searches?q=%22s+Kennedy+North%22
Letters to The Times about the Duccio Diptych from Kennedy North July 8, no year (AAD/1997/5/53)
Academic paper on Victorian glass restorers:
https://19.bbk.ac.uk/article/id/2901/
Relevant to SKN Arts and Crafts and other influences (see 1915 Studio item above):
"The Life and Work of W R Lethaby"
Author: A R N Roberts
Journal of the Royal Society of Arts, 29th March, 1957, Vol. 105, No. 5000, pp. 355-371
Published by Royal Society for the Encouragement of Arts, Manufactures and Commerce (RSA)
Online: URL: https://www.jstor.org/stable/41366042
This is a key PDF of an RSA address on W R Lethaby as an LCC educator (founder of Central School of Arts and Crafts) and professor of Design at the RCA. He was a vital figure in Arts and Crafts skills, ancient buildings conservation, Medievalism and design. The Studio in 1915 has him as an SKN influence.

A relevant quote from Roberts' paper:
"In July, 1920, he [Lethaby] contributed a paper … to a meeting of the Art Workers' Guild, opening with the words: 'Country arts, it seems to me, are everywhere decaying. Book education not only weakened the instinctive knowledge that men can only live by but those who . . . believe in the condensed ignorance called Higher Ed have succeeded with great difficulty in at last creating a dislike . . . for that greatest of blessings, Work."
It is tempting to see Lethaby as a key to SKN's scope, from copying Old Masters and painting on glass to interest in painting conservation, and not excluding an interest in Northumberland pipes, country dances, hands-on furniture making and, later, flax production and organic farming and waste disposal. But SKN was a Modern, in his ABC, his posters for Shell, his map-making, and his Mr North's Maggot.
Book references
Camille Polkownik has found several other books of use. This list comprises a few I have come across of SKN relevance.
Le Saint Joseph Charpentier de Georges de La Tour: Un don au Louvre de Percy Moore Turner
By Dimitri Salmon
ISBN 10: 9461614195 / ISBN 13: 9789461614193
Published by Snoeck, Gent, 2018
A large book in French which develops our idea of the links between Percy Moore Turner, Courtauld and SKN.
In RDN archive: a publisher's complimentary review copy is with CP, and she sees it as a candidate for archive
Percy Moore Turner: Connoisseur, impresario and art dealer
By Sarah A. M. Turner (grand-daughter)
Hardback and Kindle: 12 April 2018
Edward Thomas: The last four years
By Eleanor Farjeon, OUP, 1958 and editions since

In RDN archive. (Candidate for archive?)
_____
Many A Green Isle
By Clifford Bax
Heinemann
1927
A novel in the "Decameron" style of after-dinner stories. The first one concerns a girl, Vivien, from a poor but classy military background, who goes to art school and meets and marries "a penniless art student" who tells his wife (who dislikes the squalor and drudgery of their life) that he is "not a high-falultin' artist but a workman", and that she is a workman's wife. The story concerns her breaking away from their life. All that seems true to SKN and Vera Rawnsley's story, which was well known to Bax, and had been predicted by SKN in a 1911 letter. (Vera Rawnsley married Stanley in 1911 and would successively become Mrs Filson Young and Mrs Clifford Bax).
In RDN archive. (Candidate for archive?)

A J Munnings autobiography in three volumes:

Vol I: An Artist's Life, 1950
Vol II: The Second Burst, 1951
Vol III: The Finish, 1952
By Sir Alfred (A J) Munnings
All published by Museum Press
These book are lively and roughly but randomly chronological in which The Finish has a longish reference to SKN and his Courtauld work, and relevant material on Laura Knight.
In RDN archive are all the volumes. (Candidate for archive?)
________
Frederick Sandys, 1829-1904: A catalogue raisonnée
By Betty Elzea
Antique Collectors' Club/Norfolk Museums and Archaeology Service, Woodbridge, Suffolk, 2001
Appendix 2: "Sandys and James Bulwer's 'Norfolk Collection'" (pp 313-315) speaks of SKN in 1936 successfully advising Russell Colman and his wife to buy pictures from the "Norfolk Collection" from Percy Moore Turner; following his advice they also set SKN's assistant Margaret Praeger to reorganise the Colman collection.
SKN-relevant material in photocopy in RDN archive. Candidate for archive?
William Nicholson
By Sanford Schwartz, Yale University Press, 2004

Has useful material on SKN's published appreciation of WN and also SKN's dalliance with Edie, Sr William's wife.
A Scatter of Memories
By Margaret Gardiner, 1988
Free Association Books
Several long and generally admiring references to SKN and his profound and enduring influence on the author's life. Includes a record of Stanley reciting an un-ascribed rude poem about the flirtatious Vera, Stanley's first wife. It bears some resemblance to a similarly "vulgar" poem about their friend Edward Thomas written by Clifford Bax and Herbert Farjeon ("Walking Tom", which appears in Edward Thomas: The last four years. Bax also wrote a poem, "The Flirt", ascribed as being for "VR", Vera's maiden name initials.)

In RDN archive. Candidate for archive?
____________
Footnote on RDN's previous errors
In the past and in an archived RDN website I have said that SKN was "Keeper of the King's pictures", which was a family myth which research which is plainly false. I may also have been the source of the misimpression that SKN had aristocratic pretensions. I may have been the source of assumptions that SKN was a socialist. I can't find any evidence for these assertions. These assertions turn up in online material.
ends